It really looks too easy.
Even though the S&P 500 is up 4.9% from its August 25 low, market sentiment has become decidedly negative. That the market is headed for a retest of its October 15 low is fast becoming the prevailing view. For the S&P 500, a retest would represent a potential decline of 7% from the current level of 1958.03.
The bearish sentiment is supported by the market's recent price action.  Since the Aug. 25 low, the market has bounced back; but it has been trading in a tighter range, a sign of increasing tension. Last Thursday's inverted hammer paved the way for Friday's decline, setting up the potential prospect of a more significant decline and the retest of 1867 on the S&P.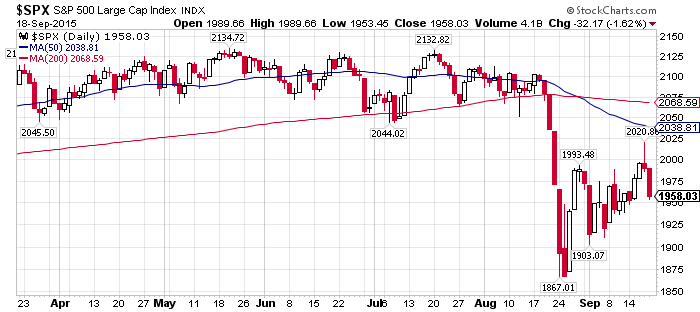 A break below the Aug. 25 low of 1867 would have even greater consequences.  Many who follow Elliot Wave theory and the principles of Fibonacci retracements think that this decline could be even worse.  The 12% decline suffered by the market during August would only be half the story.  A second downward leg, typically equal in magnitude to the first, could bring the S&P down to 1650 or 16% from the current level.
At that point, many traders would be calling this a bear market, but it would still represent a correction within the six-year bull rally.
With all of these telltale signs, Mr. Market appears to be giving very clear signals about the course that he intends to take over the next few weeks, which is very uncharacteristic of him.
Stephen P. Percoco
Lark Research, Inc.
P.O. Box 1543
Linden, New Jersey 07036
(908) 448-2246
incomebuilder@larkresearch.com