Peabody reported a sharp decline in its 2019 first quarter revenues and profitability (even though its earnings per share rose). The declines were due to lower volumes, lower prices and higher costs in its seaborne metallurgical (SMC) and Powder River Basin coal businesses. Management's guidance had anticipated a decline, but it turned out to be worse than anticipated.
Revenues declined 14.5% to $1.25 billion. Sales volume fell 16.2% to 40.5 million tons. Peabody's SMC revenues fell 30.4% to $324.5 million and SMC's adjusted EBITDA fell 48.5% to $85.8 million. Excluding the $39.3 million of insurance settlement proceeds (which will not repeat), SMC's adjusted EBITDA would have declined even more.
Problems at the North Goonyella Mine. In September 2018, Peabody's North Goonyella mine in Queensland, Australia suffered a fire that resulted in a shutdown (but no injuries or casualties). The company has completed segmenting the mine into multiple zones to phase in the re-ventilation and re-entry procedures. On the conference call, management said that it had re-ventilated the first segment of the mine, but must receive approval from the Queensland Mine Inspectorate before it can proceed further to assess the next steps required to resume operations.
In February, Peabody said that its "base case" for resuming operations at Goonyella targets only modest sales from the mine in 2019 but a full year's worth of production of two million tons (from the resumption of continuous mining operations) in 2020. The company also reaffirmed its 2019 guidance of $30-$35 million in quarterly project costs associated with restarting the mine.
In the quarter, Peabody received a $125 million settlement from its insurance companies related to the North Goonyella shutdown. Of that amount, $33.9 million was allocated to offset current period project costs (and so was included in adjusted EBITDA) and the remaining $91.1 million was allocated to offset previously recorded equipment replacement costs (and was therefore not included in adjusted EBITDA). The company also recorded a supplemental equipment impairment charge of $24.7 million for North Goonyella in the quarter, bringing the total equipment charges recorded to date to $91.1 million.
Also in the quarter, Peabody recorded North Goonyella project costs of $36.9 million (slightly above the high end of its guidance), which was more than offset by the $33.9 million insurance benefit and $4.3 million of adjusted EBITDA associated with the sale of a portion of the mine's inventories.
The insurance recovery helped reduce the impact of the loss of North Goonyella's production in the quarter. In its 2018 fourth quarter earnings release, Peabody disclosed that the loss of North Goonyella resulted in a $122 million negative swing in adjusted EBITDA in that quarter from $73 million in profits in the prior year period to $49 million of losses in the current period.
The company did not make a similar disclosure in its latest earnings report. However, if we subtract the $3.0 million in net project costs recorded in the quarter (the $36.9 million of project costs minus the $33.9 million of insurance proceeds) from the $4.3 million in profit on sales of inventory, North Goonyella contributed an estimated $1.3 million in adjusted EBITDA in the quarter.
We do not know what the mine's prior year profit was; but if we assume that the mine's 2017 fourth quarter profit contribution of $73 million was indicative of its quarterly run rate (which suggests annual adjusted EBITDA of $292 million for the mine), the first quarter decline in adjusted EBITDA attributable to North Goonyella was about $72 million.
Going forward, however, Peabody will not have any future insurance proceeds to offset project costs. Unless it has more inventory to sell, the net swing in second quarter profitability may be $103-$108 million, but only about half of that in the third quarter because of $54 million in costs incurred in the 2018 third quarter at North Goonyella related to the longwall move. After the September anniversary date of the fire, the quarterly comparison for the fourth quarter should not be (as) negative.
While 2019 first quarter results were obviously disappointing for the company and investors, it did not represent new news. Expectations of the profit decline associated with the closure and restart of North Goonyella were incorporated into the company's 2019 guidance which was issued in February. What has changed, perhaps, is the market's assessment of when this problem will be resolved. Recall that the company's guidance was a base case (and not a best or a worst case). Since Peabody is still waiting on a green light from the Queensland Mine Inspectorate before it can get into all segments of the mine, the re-start of production might be delayed until sometime in 2020. If so, the company may not be able to produce two million tons of coal from North Goonyella in 2020.
Other Problems in Seaborne Metallurgical. In its Supplemental Financial Data (included in the earnings release), Peabody reported that adjusted EBITDA attributable to its SMC business declined by 46.6% or $77.6 million to $88.8 million. That is modestly above my $72 million estimate for the loss of North Goonyella. It seems more likely therefore that that the other mines included in this segment experienced some pressure on profitability.
In the appendix to its May 1, 2019 Investor Update Presentation slides, the company disclosed that settlement and spot prices for seaborne hard coking coal (HCC) were down 11.4% and 9.7%, respectively, in the first quarter (according to data published by IHS Markit and Platts). Peabody's average revenue per ton for its seaborne met coal business declined 7% in the quarter to $142.33.
While average SMC prices were down for Peabody in the 2019 quarter, production costs also rose, which contributed to the squeeze on profitability. Peabody's SMC production costs increased 6.4% to $104.69 per ton. Management attributed most of the increase to the cumulative impact of dragline repairs at its Coppabella mine. It anticipates that production costs will also be affected (i.e. raised) by two planned longwall moves in the second quarter. After that, barring similar issues at other mines during the course of the year, production costs should ease in the second half of 2019.
On a positive note, Peabody said that its newly-acquired Shoal Creek mine – the only one of its SMC mines located in the U.S. (in Alabama) – delivered operating cash flow in the quarter that was so strong, it would if sustained allow the company to recover its entire investment in less than two years. Peabody acquired Shoal Creek for $387 million in December 2018. It is targeting production of 2.5 million tons from the mine in 2019.
Shoal Creek's production should offset all of the production that will be lost from the Millennium mine (located in Queensland, Australia) which has exhausted its reserves and is expected to close in the second half of 2019. Millennium produced 2.4 million tons of met coal in 2018.
Problems in the Powder River Basin. Peabody's 2019 first quarter profitability was also hurt by a sharp decline in segment profit at its operations in the Powder River Basis (PRB). Its adjusted EBITDA from the PRB plunged 51% to $36.4 million. Most of the decline was due to logistic problems (i.e. limited rail operations) caused by severe cold winter weather and flooding across the Plains states.
PRB revenues plunged 26.2% to $287.3 million in the quarter. The decline was due to a 21.9% drop in tons sold combined with a 5.5% decline in the average price per ton. Operating costs per ton increased 2.0%. As a result of the sharp drop in sales volumes, inventories at coal-fired electricity power plants are at a five-year low. Peabody expects that at least some of the first quarter sales decline will be made up during the balance of the year, especially in the second half.
Better News in Seaborne Thermal, Midwestern U.S. Mining and Western U.S. Mining. Fortunately, the results were not all bad for Peabody. Its Seaborne Thermal segment (STC) delivered adjusted EBITDA of $94.7 million, up 53.7% from the prior year. Revenues increased 24.6% to $251 million, as tons sold rose 18.4% and the average price per ton increased 5.3% to $55.56. Per ton production costs fell 5.6%.
Management said that 58% or 2.6 million of its 4.5 million tons sold were priced at an average of $80.40 per short ton. (The remainder was sold at a lower price under a long-term contract.). STC benefited from the higher quality of coal produced, which allowed it to base a greater proportion of its export sales on the higher priced Newcastle coal index. It also benefited from an absence of production issues, including greater production efficiency at its Wambo complex and the absence of costs associated with last year's longwall move at Wambo underground.
Profitability also improved at Peabody's Midwestern U.S. and Western U.S. operations. Both segments reported higher adjusted EBITDA. Midwestern's profit contribution improved somewhat surprisingly as lower production costs more than offset a sharp decline in tons sold. Western's profits were up sharply, as higher prices and volumes more than offset a modest increase in production costs. Management singled out strong performance at the Twentymile mine and accelerated cost recover at Kayenta mine as major contributors to the improvement at Western U.S.
Management Anticipates a Tough 19Q2, but Improvement in the Second Half. With the absence of North Goonyella production and related insurance recoveries and two planned longwall moves in Australia, management anticipates another tough quarter in its SMC business in the second quarter.
For the full year, management's revenue, cost and cash flow guidance is little changed. It raised its thermal export volume outlook by 0.5 million tons to between 12.0 and 12.5 million tons and also raised the committed pricing on its seaborne thermal export volumes by $1 to $83. But it also withdrew its production cost guidance for the SMC business and reduced its capital expenditure guidance by $25-$50 million to $350-$375 million.
The withdrawal of SMC cost per ton guidance, which had already excluded North Goonyella, is of concern because it could drop the floor on Peabody's earnings. The withdrawal is presumably connected to the planned second quarter longwall moves in Australia. Longwall moves, especially if extended, wreck profitability because they are costly and the downtime loss of production spreads fixed costs over lower volumes. Peabody may be under greater scrutiny because the longwall move at North Goonyella has been connected to the fire there. Yet, any additional costs associated with the upcoming longwall moves should not affect the company's long-term value.
There have been reports out of Australia that interested parties, including the mineworkers' union, called for an investigation into the causes of the fire. Authorities understandably want to be sure that the mine can be operated safely and that a fire will not reoccur. This apparently is not the first time that the company has had to shut in a longwall at North Goonyella. Peabody has delivered its own report to QMI detailing the problems at the mine and proposing changes in management procedures and the installation of new equipment that will monitor methane levels, automatically ventilate the mine when necessary and/or shut down longwall production to avoid a fire. However, QMI is conducting its own investigation and could make changes to the company's proposal. So far, there has been nothing that suggests that Peabody's plan will not be accepted.
Guidance, Outlook and Valuation. Using management's guidance and filling in the gaps, I project that Peabody will achieve 2019 GAAP net income attributable to shareholders of $211.8 million or $1.88 per share, which is consistent with the consensus estimate. That figure includes an estimated $0.82 per share of earnings mostly from the North Goonyella insurance recovery, offset partially by the additional loss estimate on equipment at that mine. Projected 2019 revenues of $5.2 billion, would be down 6.8% from 2018.
The key assumptions underpinning my projections include modest declines in seaborne thermal and met coal prices in the second quarter, but gradual sequential improvement for the balance of the year. (This may seem optimistic given recent declines in both met and thermal coal prices, but prices for more than half of Peabody's sales volume are already locked in.) I am also assuming average seaborne met coal costs of $108.25 for the full year, up 7.2% from 2018 and well above the company's previous guidance of $85-$95 per ton (which has since been withdrawn).
My projections anticipate that EPS will rise to $2.31 in 2020. This is a notable departure from the current consensus estimate of $1.81. Virtually all of the EPS increase that I project comes from the 2.0 million tons of production anticipated in the company's base case scenario for the resumption of operations at North Goonyella. While I cannot be sure about the assumptions underlying the consensus estimate, the projected decline in EPS suggests that it incorporates little or no production from North Goonyella in 2020. (Alternatively, analysts could be universally bearish in their outlook for Peabody's realized coal prices, but that seems unlikely.)
The difference will likely be important to the future direction of Peabody's stock. At Friday's (5/3) closing price of $29.01, the stock is trading at 12.6 times my projected 2020 EPS of $2.31, but 16.0 times the current 2020 consensus estimate of $1.81. Consequently, the stock looks cheap if the company is able to deliver on its base case for North Goonyella, but fairly priced if it does not.
The Technicals. BTU has suffered two major sell-offs this year, both after earnings announcements and tied to its outlook for 2019, which has been affected by events at North Goonyella, negative trends in seaborne pricing and the ongoing headwinds in the PRB. A weekly chart shows that the stock has been in a downtrend since reaching its 52-week high of $47.84 in June 2018.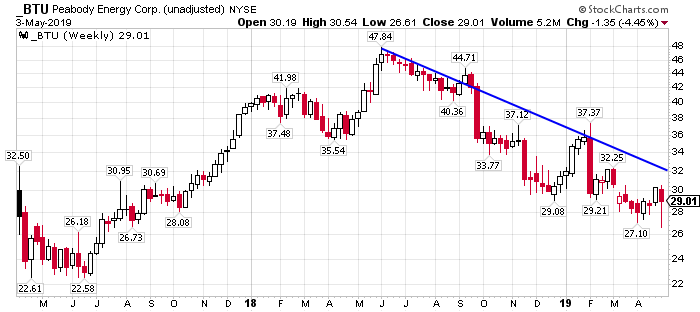 Although it looks like the downtrend has continued over the past couple of months, investors should note that the gap down in March followed the payment of a $1.85 special dividend.  (That payment, which was announced in February after the first big plunge in Peabody's share price suggests that management and the Board of Directors have some confidence in the company's prospects.) Adding the special dividend back to the post-March share price, it seems like BTU has been forming a base near $29.00 ($27 after the special dividend), which now looks like a key support level.
Conclusion. Despite the disappointing first quarter results and near-term outlook, Peabody is essentially sticking with its guidance (including its base case scenario for restarting North Goonyella). That makes it a good speculative bet in my mind. If the global economy does not weaken and management delivers on its guidance, I believe that the stock has upside to the mid- to high-$30s by the end of 2019 (or early 2020). Further upside from there would depend upon an outlook for continued improvement in 2021.
May 5, 2019
Stephen P. Percoco
Lark Research
16 W. Elizabeth Avenue, Suite 4
Linden, New Jersey 07036
(908) 975-0250
admin@larkresearch.com
© 2015-2023 by Stephen P. Percoco, Lark Research.   All rights reserved.
This blog post (as with all posts on this website) represents the opinion of Lark Research based upon its own independent research and supporting information obtained from various sources. Although Lark Research believes these sources to be reliable, it has not independently confirmed their accuracy. Consequently, this blog post may contain errors and omissions. Furthermore, this blog post is a summary of a recent report published on this subject and that report provides a more complete discussion and assessment of the risks and opportunities of any investment securities discussed herein. No representation or warranty is expressed or implied by the publication of this blog post. This blog post is for informational purposes only and shall not be construed as investment advice that meets the specific needs of any investor. Investors should, in consultation with their financial advisers, determine the suitability of the post's recommendations, if any, to their own specific circumstances. Lark Research is not registered as an investment adviser with the Securities and Exchange Commission, pursuant to exemptions provided in the Investment Company Act of 1940. This blog post remains the property of Lark Research and may not be reproduced, copied or similarly disseminated, in whole or in part, without its prior written consent.