The broader stock market averages closed the week ended February 26 with gains of 1.5%-1.8%. Small caps rose 2.8%, a positive sign. This was the second consecutive week of gains, coming off of the Feb. 11 market low; but this week's advance was not quite as robust and came on lower volume.
The market's gains reflected generally positive economic developments. 2015 fourth quarter GDP growth was revised upward to 1.0% (from 0.7%), suggesting that the slowdown in economic growth is not as severe as originally feared. Personal income rose by 0.5% (or about 6% annually in January). Durable goods orders rebounded 4.9% in January after two consecutive months of declines. Existing home sales remained solid, up 11% year-over-year, but new home sales fell 5%, due to a sharp drop in the West. (There is a good chance, in my view, that January new home sales will be revised higher.) House prices continue to rise at surprisingly strong but unsustainable 5%-6% annual rate, which is mostly attribute to a lack of for-sale inventory.  Consumer confidence dipped but still remains near peak levels. Exports continued their slide, falling 8.7% in January.
On balance, the data show that momentum in key segments of the economy, such as employment, personal income and consumer spending, has not been impeded significantly so far by the drop in oil and the rise in the dollar. Strong durable goods orders suggest that the industrial sector still has pockets of strength.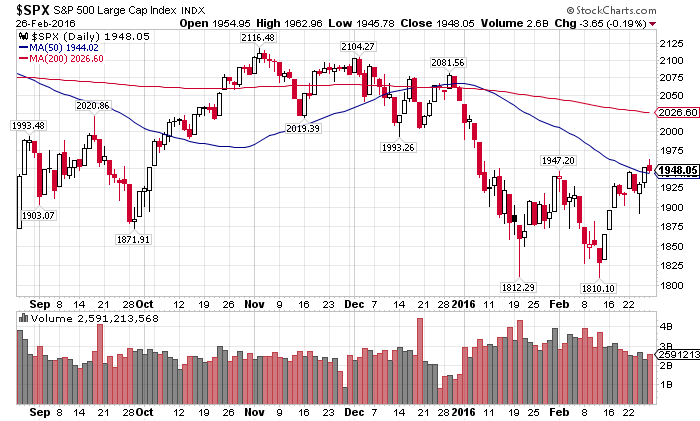 With this week's gains, the S&P 500 rallied back to close Friday at 1948.05. This sets an important new marker, a higher high than the immediately preceding intraday high of 1947.20 set on Feb.1, just before the market's plunge. At Friday's close, the S&P 500 has moved back above its 50-day moving average.
Even so, last week's gains also complete the partial (Fibonacci) retracement of the market's decline since its early November peak. Consequently, bears may be primed for another plunge. If that happens, bulls are hoping that it will be a successful retest of the Feb.11 low of 1810.10.
I am still hopeful that the economy will work through this soft patch and begin to regain momentum within the next few months. Accordingly, I am looking for the stock market to confirm a bottom now or in the near future. If the market does retest the Feb. 11 low and fail, that bottom will probably be lower and farther away than I anticipate.