On Saturday, July 13, I visited the Bed Bath & Beyond (BB&B) store on Route 10 in East Hanover, NJ and also the Cost Plus World Market and buy buy Baby stores about two miles east on Route 10 in Livingston NJ. Here are my photographs and observations on the East Hanover Bed Bath & Beyond store:
This store is one of the earliest next generation lab stores.  It is larger than the typical BB&B store and has some features (such as an oversized kitchen classroom) which are somewhat unique to its store size and to the demographic profile of its customer base. While some BB&B stores may replicate the East Hanover model, the majority probably will not. Even so, the East Hanover store has many of the features that will be carried in the majority of future BB&B store upgrades.
Store personnel told me that the store had been remodeled over one year ago. The inside of the store looks very different from a typical BB&B location. Specifically, there are several departments – a general reception area at the store entrance, window treatments, bedding, home décor and small appliances – that have desks where category experts can review with customers their specific wants and needs, make suggestions and/or create custom orders.
Here is my tour of the store:
Store entrance – this covers both the bridal registry, back-to-college and custom home décor. The woman manning the desk said that, among other things, she was responsible for the bridal registry and was currently tracking orders and purchases for 30 customers.
The "Find More" theme is prevalent throughout the store. Here it is at the entrance. It emphasizes that BB&B has a greater selection than other stores, which allows you customize your purchases and help you get exactly what you want.
The "Find More" theme is in other departments, such as Tablecloths. . . .
and Cookware . . . .
and Giftware . . .
and Mattresses . . .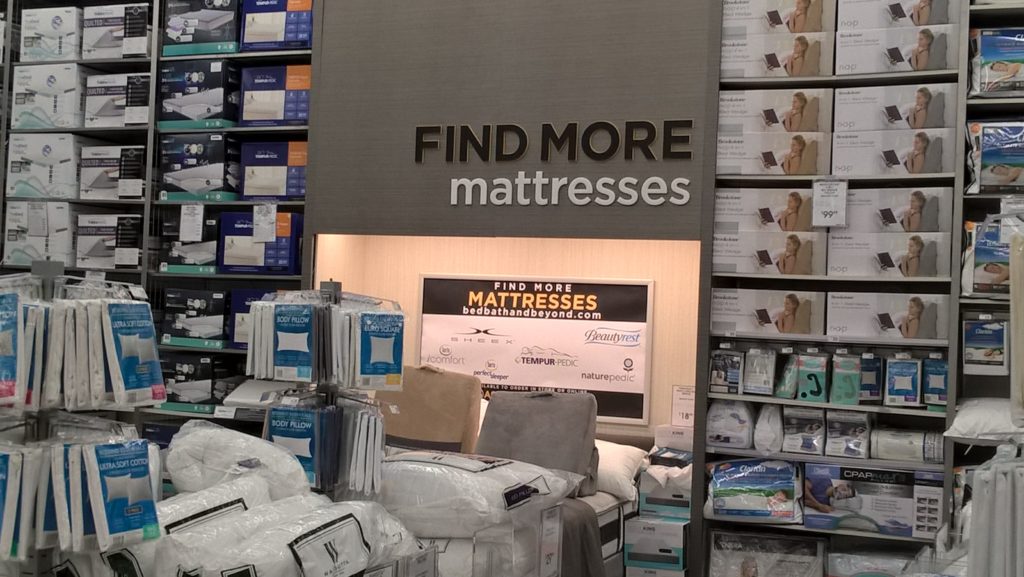 There are desks for personnel to discuss personalized selections with customers are in key departments, such as Bedding . . .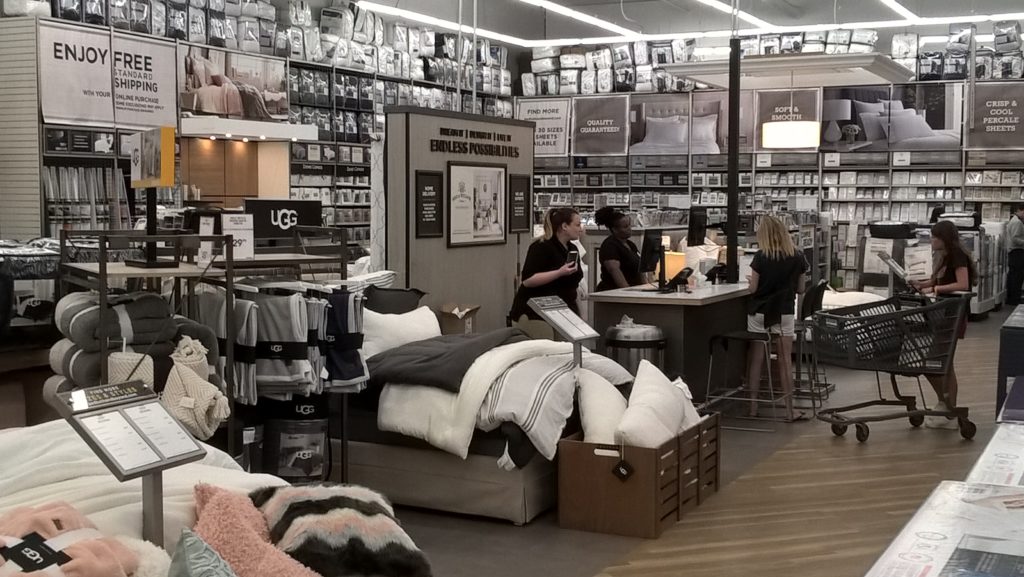 and Window Treatments.
There is a section for Small Appliances . . .
with a seating area . . .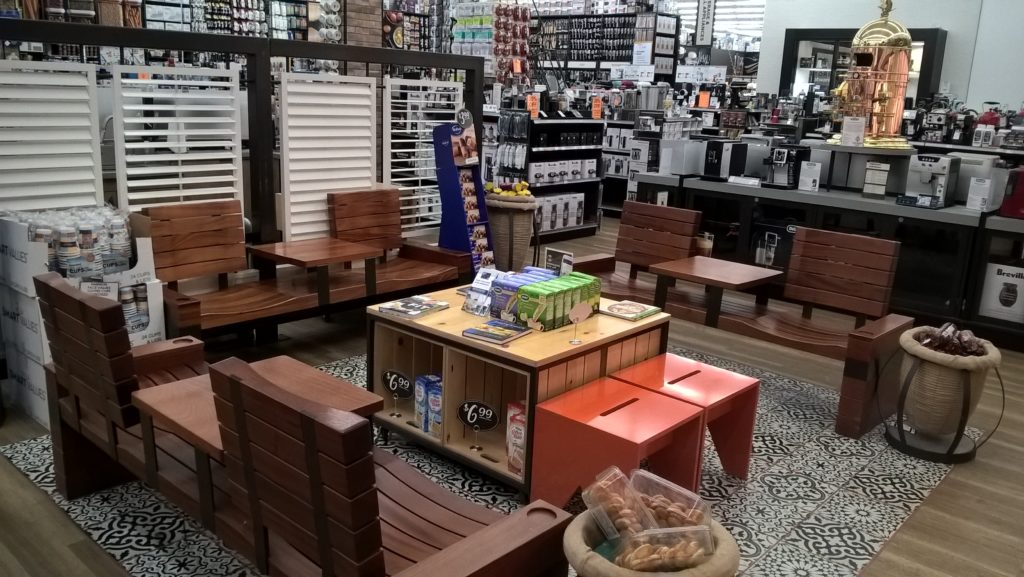 where customers can try before they buy . . .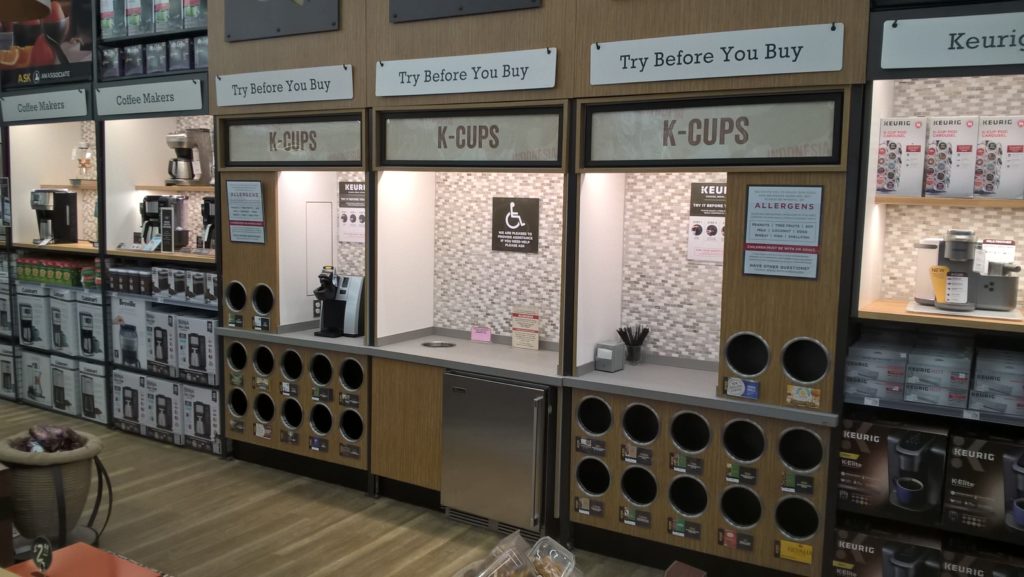 and participate in product demonstrations.
There is a kitchen demonstration room . . .
which hosts cooking classes, including summer cooking camps for kids.
The store has expanded sections for health and beauty aids . . .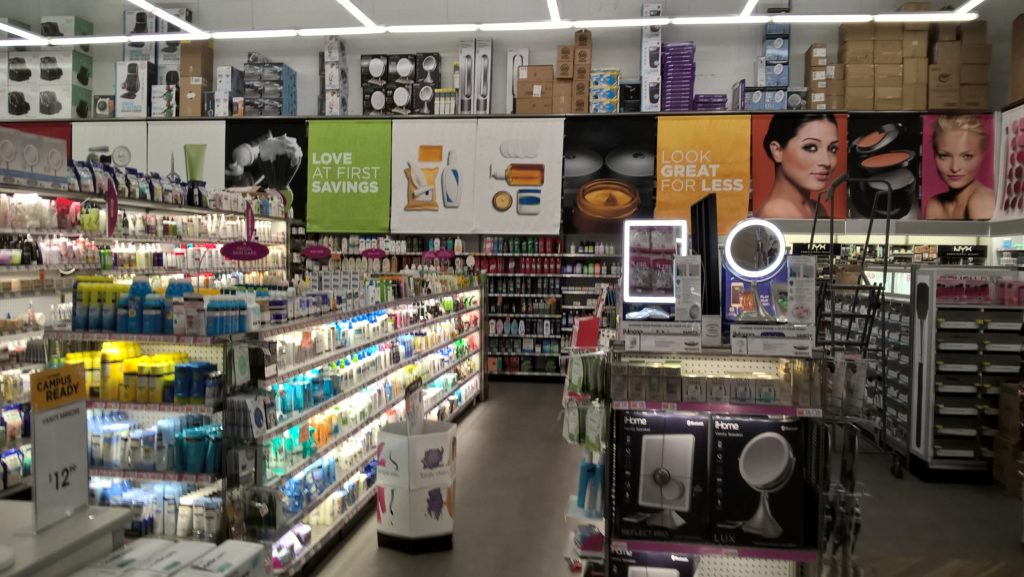 and food . . .
and a small section for clearance items.
With its emphasis on selection and customization, the store is meant to appeal to a consumer who is willing to pay more (up to a point) to get exactly what she wants. Yet, this seems at odds with the company's long-time emphasis on 20% discounts, either mailed directly to the home or now available through the Beyond Plus membership.
As I noted in my previous article on Bed Bath & Beyond, Inc. (BBBY), however, the Beyond Plus membership program, as currently configured, makes sense only as a vehicle for the company to build a membership base. To be consistent with the strategy expressed in the next generation prototype, BBBY will eventually need to convert Beyond Plus to a true membership loyalty program, where members can utilize its custom designer services, receive notices of special offers or receive (modest) discounts for large volume purchases.
So far, the company has said almost nothing about its future plans for Beyond Plus. Nevertheless, the strategy seems clear and logical, if BB&B is to maintain a defensible market position against the big box retailers, like Wal-Mart and Target, or against the online behemoth Amazon.com. One key question is whether BB&B still plans to target the price sensitive shopper who cares less about selection and customization. In that regard, it may want to bring down its list prices some, but also reduce substantially its 20% discount offers. This process appears to be already underway.
July 18, 2019
Stephen P. Percoco
Lark Research
16 W. Elizabeth Avenue, Suite 4
Linden, New Jersey 07036
(908) 975-0250
admin@larkresearch.com
© 2015-2023 by Stephen P. Percoco, Lark Research.   All rights reserved.
This blog post (as with all posts on this website) represents the opinion of Lark Research based upon its own independent research and supporting information obtained from various sources. Although Lark Research believes these sources to be reliable, it has not independently confirmed their accuracy. Consequently, this blog post may contain errors and omissions. Furthermore, this blog post is a summary of a recent report published on this subject and that report provides a more complete discussion and assessment of the risks and opportunities of any investment securities discussed herein. No representation or warranty is expressed or implied by the publication of this blog post. This blog post is for informational purposes only and shall not be construed as investment advice that meets the specific needs of any investor. Investors should, in consultation with their financial advisers, determine the suitability of the post's recommendations, if any, to their own specific circumstances. Lark Research is not registered as an investment adviser with the Securities and Exchange Commission, pursuant to exemptions provided in the Investment Company Act of 1940. This blog post remains the property of Lark Research and may not be reproduced, copied or similarly disseminated, in whole or in part, without its prior written consent.